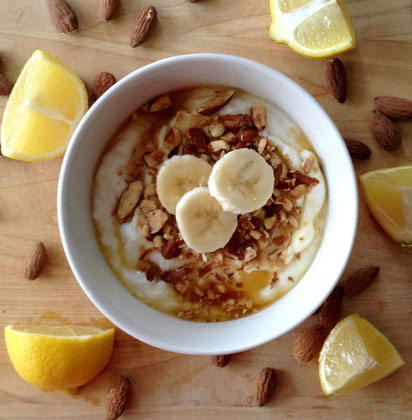 There is sufficient evidence to prove that there are certain healing foods, herbs and treatments that can prevent or benefit people with cancer, and other chronic health conditions. One of those protocols  is the Budwig Protocol or the Budwig Diet. I like to call it Budwig Muesli.
The Budwig protocol success rate has been claimed to be between 80-93% for chronic health conditions according to the Budwig organization.
Dr. Budwig found that the health of your cells can quickly be reversed by consuming a mixture of cottage cheese (quark), flaxseeds, and flaxseed oil.
Cottage cheese is rich in sulfur protein and saturated fats and flaxseed oil is high in electron rich unsaturated fatty acids.  When cottage cheese and flax are combined together it makes the fats more soluble and can now easily be absorbed into the cell membrane healing your cells.
Dr. Budwig discovered that her muesli protocol wasn't just beneficial for people with cancer, but also for those with heart problems, diabetes, eczema, psoriasis, respiratory function problems, arthritis, hormone imbalance, and neurological conditions.
The Budwig Muesli Recipe
· Blend 3 Tablespoons of organic flaxseed oil (FO) with
· 6 Tbs low-fat organic (less than 2%) Quark or Cottage Cheese (CC) with a hand-held immersion electric blender for up to a minute.
The mixture should be like rich whipped cream with no separated oil. Remember you must mix ONLY the FO and CC and nothing else at first. Always use organic food products when possible.
• Grind 2 Tbs of whole organic flaxseeds and add to the mixture.
Please note that freshly ground flax seeds must be used within 20 minutes after being ground or they will become rancid. Therefore do not grind up flaxseeds ahead of time and store.
• Next mix 1 teaspoon of honey (raw non-pasteurized is recommended)
If the mixture is too thick you can add a spoon or so of milk or yogurt to thin it out.
• (Optional) For variety you may add other ingredients such as vanilla, lemon juice, chopped almonds, hazelnuts, walnuts, cashews (no peanuts), pine kernels.
• (Optional) Add ground up Apricot kernels (no more than 6 kernels per day). Or you may decide to eat these apricot kernels on their own.
More information on Dr. Budwig and recommended recipes.