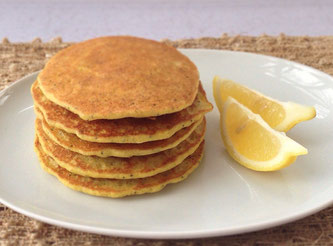 Well, honestly, who doesn't like pancakes? The only thing about pancakes is that they are usually made with flour therefore they are high in carbohydrates that the body turns into sugar.
I really love this recipe (courtesy of chef Shelley at the pH Miracle) as it has no flour at all and the pancakes are high in protein, not carbohydrates. They are delicious and can be eaten any time, either for breakfast or as a snack. You can make a big batch of them and freeze them. They taste as fresh after you heat them up using the toaster.

The recipe uses five seeds: flax seeds (great for the intestine and for binding other ingredients since we don't use eggs), pumpkin seeds (great source of zinc, good for prostate and parasite problems), sunflower seeds (high in protein),  sesame seeds (high in calcium) and buckwheat seeds. Yes, that's right,  buckwheat is not a grain but a seed. Make sure you are using raw organic seeds only
Ingredients:
1 cups buckwheat seeds
¼ cup sesame seeds
¼ cup sunflower seeds
¼ cup pumpkin seeds
¼ cup flax seeds
1½ tsp baking soda
1 tsp real alcohol free vanilla
water (enough to make a desire consistency butter)
Grind all seeds to a flour consistency, in 3 separate batches, if you use a coffee grinder or all at once, if you have Vitamix.
Mix all together in a bowl and add baking soda and vanilla
Add water - enough to make desire consistency pancake butter
Fry in non-sticky pan with no or little oil (olive, coconut or grapeseed oil). They can be served with coconut oil, almond butter or you can try them with the coconut topping as a substitute  for a whipping cream.
Coconut Whipped Topping ingredients:
1 cup Thai cocunut meat
Juice of 1 Lemon or Lime
Water of 1 Thai coconut
1/8 tsp of Stevia powder or liquid (adjust to your taste)
Mix all ingredients in the Vitamix (or other) blender, cool in the fridge and use as a topping.
Watch the pancake cooking demonstration by chef Shelly.

Enjoy!