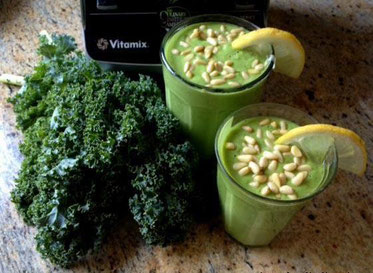 I am often asked what alkaline food can you start your day with at breakfast time. This delicious shake is my family's favorite. Kids love it... so if you have problem to make them eat green vegetables this will solve the problem.
You can also make some lollipops, freeze them and have a healthy refreshing snack on a hot summer day.
It can be anytime meal as it tastes so great and it is soooo good for you!
INGREDIENTS:
Serves two.
1 organic avocado
1 cup of organic raw spinach or kale (or any green leafy vegetables). Also, you can add some sunflower or broccoli sprouts.
2 small organic cucumbers or 1/2 of big one
1 glass of water or almond, rice or hemp milk (organic, unsweetened)
1 lemon or lime juice
2 Tablespoons of liquid Chlorophyll 
1 Tablespoons of flax seed oil or Udo's oil
1 Tablespoon of each seeds: flax seeds, sunflower, pumpkin, and sesame. Best to soak the seeds overnight, alternatively grind them in a coffee grinder
Cinnamon to taste (about 1/2 tsp or 1-2 drops of essential oil)
Stevia to sweeten (or Real Salt for savory taste) - adjust amount of lemon juice and Stevia/or Real Salt to your own taste. There are some liquid ones with various flavors.
(Optional) 1 scoop of good  vegetable protein from vegetable source
You can also add 2-3 drops of essential oil of Lemon, Lime or Grapefruit for wonderful taste.

Put all ingredients into a blender (Vitamix or other powerful one) and blend well.

You can adjust the quantity of some ingredients slightly to create the taste you like.
This shake tastes soooo great and is soooo HEALTHY!
Bon Appetit!